Thanksgiving is the kick off to the holiday season and I have always loved it. This year brought around old traditions and new adventures.
On Thanksgiving day we devoured much turkey, ham and pie. And as we lit the candles before the meal, reciting a few sentences that have been said before every Thanksgiving meal for years. It reminded me how thankful I really am for my family.
One for those who could not make it. One for the ones who are here. And one for those who are no longer here.
It was a lovely day of laughter, stories and a warm fire. Ending with the Charlie Brown thanksgiving.
After family time, we jumped right into friend time by going black friday shopping at midnight. Oh what an adventure that was! Crazy crowds in Wal-mart, insane line at Target and so much walking! It was incredibly fun and my only goal was to complete my Harry Potter DVD collection, which I did. Plus, Megan, Kaylee and I got some pretty amazing moccasins. I am now convinced that everyone needs a pair of moccasins. Yes indeed.
With black friday shopping comes little sleep and I went 28 hours without any, plus I went to work for four of those hours. I feel pretty awesome that I pulled that off without collapsing.
Friday ended with going to see the
Muppet movie
. If you grew up with the Muppets, you will enjoy that movie so much. I loved it. Classic muppets, with just a little bit of cheesy-movieness. It was perfect.
Thanksgiving weekend ended with spending Saturday with our aunt and uncle playing card games while watching peanut movies. It was the perfect ending to a great Thanksgiving break.
A beep on the nose is a sign of great affection. -Lucy
______________________________________________________________________________________________________________________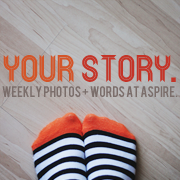 Linking up with my friend Hannah's new project today. Please go check it out. It a really great thing she is starting.
PS- Megan redid my blog. I'm so lucky to have a sister who can do amazing designs.